A hot cup of tea. A cinnamon bun, fresh out of the oven. A strong espresso. A chocolate brownie with whipped cream. Let us tell you more about the importance of the Swedish fika.
The concept of fika is a very Swedish thing. Locals know exactly what a fika is, in fact it is a common occurrence in their day to day lives. Some people even have several a day, and for some it is a must.
So what exactly is fika? 
Actually, we prefer not to translate the word fika but would love to describe it for you. Fika is much more than having a coffee. It's when you set aside time to sit down, have a drink such as coffee or tea and is often accompanied by sweets or open sandwiches. So you could say it's a social gathering and a legitimate reason to set aside a moment for quality time. Fika can happen at any time, morning as well as evening. It can be savoured at home, at work or in a café. It can be with colleagues, family, friends, or someone you are trying to get to know. It is a tradition observed frequently, preferably several times a day.
Luleå is full of places to enjoy a fika at. We even have to cafés listed in White Guide. 
Börje Olssons Konditorier. The well-renowned bakery, established in 1958, serves good coffee, fresh, hearty sandwiches and pastries of their own production. They have an extended assortment with light food, wine and beer. There are also plenty of options for those who have allergies.
Friends Fika & Food. Here you can meet with friends regardless of whether you're feeling peckish for a fika, hungry for a pleasant lunch whilst out shopping. The goodies from the fika counter are delivered daily from their own bakery and the assortment varies by season and according to the baker's current inspirations.
Café La Vache. In this cute little corner in central Luleå you'll find hot and cold beverages of the highest quality as well as fabulous soups, sandwiches, bowls, salads and cakes. All made from carefully chosen ingredients and as locally produced as possible.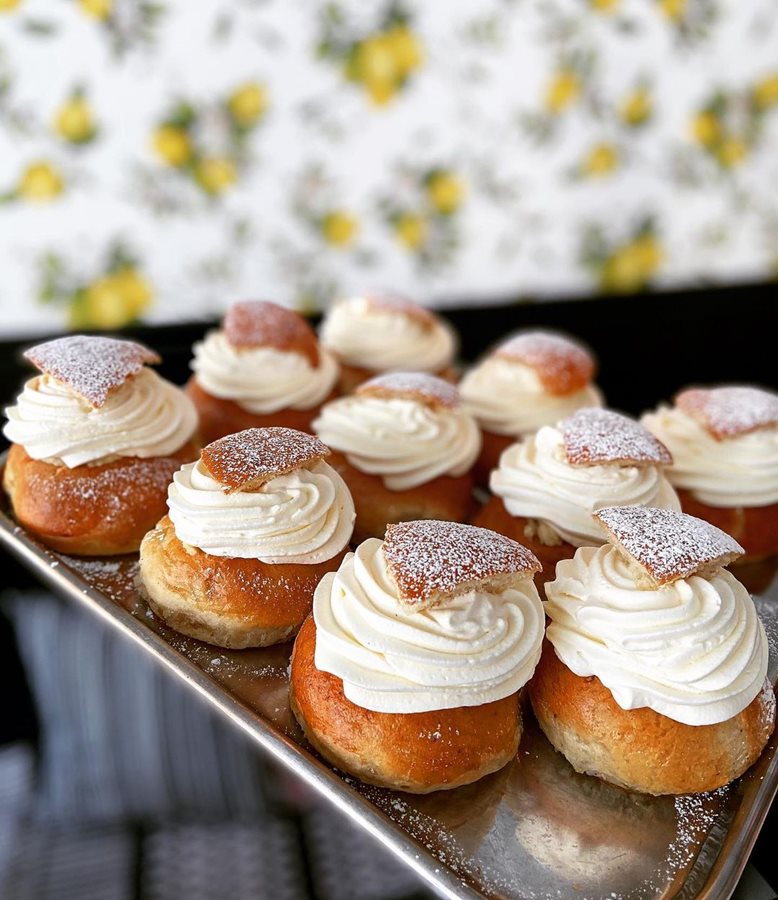 At Café La Vache you can eat a proper Semla during February.
Enjoy a fika outside!
Pack your thermos and something warm and soft to sit on and have your Swedish fika outside. If you don't feel like making your own lunch/fika pack you can always ask a café to make your order to go. We can almost promise the coffee will taste even better after a hike in the Luleå woods or along the famous ice track during the winter months. Come spring-winter the organization Lions sells waffles at Gråsjälören during weekends, which you can reach by the ice track that spans from the north harbour, around the city, to the south harbour and then straight out to the island Gråsjälören. If the flag is waving they are open!