To wake up to a view over the water, surrounded by woodland and birdsong. Fresh-caught fish prepared over an open fire. Sunlight burning through the morning mist. That's the magic of free camping, if you ask Per Lundström. In Luleå and Norrbotten there are excellent opportunities both for those who enjoy back-to-basics camping and for those who like to camp close to every imaginable service.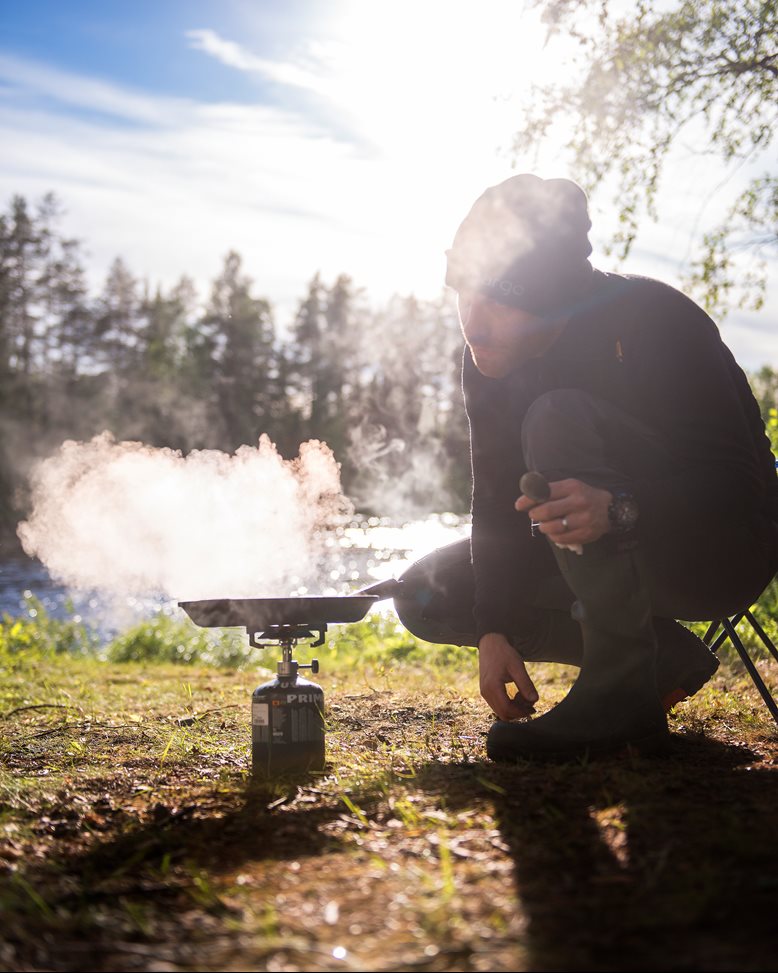 The Råne River winding its way to the sea; woodland roads and trails around Sörbyarna; Selets bruk and lovely spots around Hertsö träsk. Those who wish to go free camping around Luleå needn't travel far to find their own special hideaway.
"Normally, I zoom in on the map to find a roadside space to park. I prefer to camp near a lake, a river or a stream. Or surrounded by forest," say Per Lundström, who is a devout free-camper and nature photographer.
He spends all of his free time in nature and usually camps alone with his motorhome.
"It takes me right out into nature and I have all the comforts of home, even though I'm outdoors most of the time. I fish, light a fire and sit staring into the flames for as long as I wish. That's when  the camping peace descends. When the nights are long and bright, I never want to sleep."
Per waxes lyrically about the magical morning light and the fairytale atmosphere conjured up by rays of sunlight glowing through the dawn mist. He speaks of nature's spectacle, with shifting weather and animals passing by the window outside his motorhome –  reindeer, moose, birds, badgers and foxes. The dream scenario would be to see a bear from a safe distance.
Summer and autumn, the motorhome is always packed and ready to roll.
"When I hit the road with my rolling hotel room, the sense of freedom is incomparable. I have everything I need  and I can choose where I want to wake up the next day. There are always new places to explore and there is always a place you can have all to yourself. That's happiness!"
If you prefer organized camp sites
If you prefer an organized camp site with service, you'll find everything from smaller sites to parks that offer everything your heart desires.
First Camp in Karlsvik and the surrounding area offer a wide range of services and activities. Adventure course, paddle halls, tennis courts, mountainbike trail, swimming pool, fine beaches, café and restaurant - something for everyone. The park is close to retail centres and Luleå, just across the water. There are plenty of spaces for motorhomes and caravans, tent sites and rental cabins.
Rörbäcks camping and seaside bathing area in Råneå is a smaller park in an archipelago setting. There are shallow-water beaches and activities such as kayaking, volleyball and boules. A grill hut with room for 30 people is available for rent. The park has about 80 caravan spaces and several cabins.
Vildmarkscamp Stora Stenträsk is in Krokträsk, uoutside Luleå. The area has cabins and spaces for caravans and tents. Many come here to fish char and trout. There is even a wood-fired sauna. Above all, Stenträsket is a place for peace and quiet, and it is as close to free camping as you can get without actually camping out in the wild.
Naturcamping Kängsön, outside Råneå, is close to the harbour, near a fine sandy beach, and has a limited number of spaces for RVs. There is also a café in the harbour.
Vallens turism och fritid is a recently established park on the site of a former children's camp, about 10km to the coast by car from the E4 at Ersnäs. This is a very peaceful place to park a caravan or motorhome, or pitch a tent. The park has a service building with showers and lavatories, and there is a lovely beach and café.
Meldersteins herrgård, outside Råneå, offers parking spaces for caravans and motorhomes. Access to lavatories, showers, communal kitchen and grill site.
Brändön fritidsby, beautifully situated with a view of the sea and archipelago, offers rental cabins and three spaces for motorhomes (no caravans). Here, you'll find a restaurant and kiosk.
EFS Sundet, by the beautiful Lule River, has several spaces for caravans and motorhomes, as well as several rental cabins.
Stiftelsen Strömsundshemmet, north of Råneå, offers about ten parking spaces for caravans and motorhomes. There are also tent sites.
Text: Birgitta Lindvall Wiik
Translation: Mark Wilcox
Photo: Per Lundström