Luleå – one of Sweden's best cycling cities.
In Luleå, we cycle everywhere and all year round. In summer we take our bicycles no matter where we're going, no matter what time of day it is. The midnight light allows us to enjoy one of Sweden's best cycling cities 24 hours a day.
As we leave the city, cycling roads turn into trails and we love navigating our beautiful surroundings on a mountain bike. Whether it is for exercise or for leisure matters less to us, we have plenty of both. Even when the terrain gets rough or the snow and slippery roads of winter make things more difficult, we saddle up, because in Luleå there are many fatbike cyclists. Our love of this odd bicycle has a lot to do with the freedom it gives us – neither sea ice nor marshlands can stop a fatbike. We cycle to work, we cycle for fun, we cycle for exercise and we cycle to discover. It's part of our everyday life here in Luleå.
The bike guide
Download our bike guide which is filled to the brim with fun and exciting bike routes in Luleå. You can pick up a physical copy of the guide at Luleå Tourist Center in Luleå city. There you can also get advice on routes, help with Swedish traffic laws and whatever questions you might have. A bicycle really is the best mode of transportation. It will take you anywhere in this city. If you don't have your own bike, there are several companies offering rental of various types of bikes. If you would like company and guidance, you can also hire a guide.
Download our bike guide here. See the rest of our guides here. 
Cycling etiquette
When cycling, you almost always have to adhere to the same rules as when driving a car. As a cyclist, you should cycle on cycle paths and if there is no cycle path you should keep to the side of the road. At pedestrian crossings, hop off and walk your bike across. If you cycle across a pedestrian crossing you have a duty to give way to both pedestrians and vehicles. Look carefully when crossing a busy main road, generally you have a duty to give way. Follow the routes in the guide at your own risk. 
Laws
Bicycle helmets are compulsory for everyone under the age of 15. You are recommended to always wear a helmet whilst cycling, regardless of age.
Your bicycle must have a bell.
Frontandrearlightsandreflec- tors must be mounted on your bicycle. A white front light and a red rear light (applies in darkness).
Cycling on the pavement is prohibited.
Good to know
Extra bicycle tyre inner tube and tyre lever
Pump or CO2 cartridge
Repairkit
Multi-tool with hex key
Before you leave
Check the brakes
Check tyre pressure
Check saddle height
Checkthatyourhandlebarissecured
A cycling map with all cycle paths in Luleå is available to collect from the Luleå Tourist Center. A bicycle pump can be found by the bus station at the Storgatan-Hermelinsgatan intersection.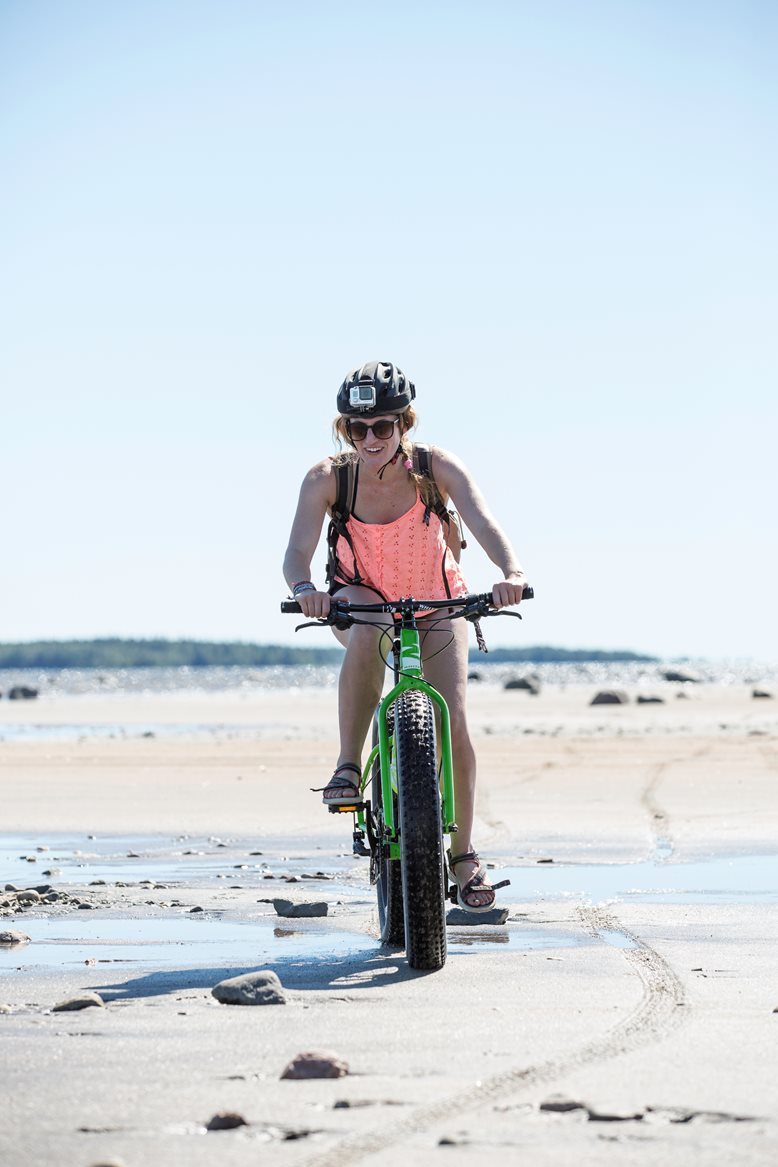 Vintercykla i Luleå
The Ice track
Every year, Luleå Council prepares an ice track that surrounds the city peninsula, from harbour to harbour with detours to Mjölkudden and Bergnäset. Its size varies slightly from year to year, depending on weather and ice quality. Here you can also travel on skates, skis, by kicksled or on foot. The total length is approximately 10 km and offers cycling with no difficulties. It is easy to reach the ice track as it is found in central Luleå and you can begin and end your journey at four different locations on the city peninsula: the South Harbour, Oskarsvarv, Hälsans Hus and the North Harbour. Along the track there are several rest stops and campfire sites where you can stop to enjoy a picnic. If you start at the South Harbour, you go out onto the ice track by the large harbour crane. Looking south, you can see the island of Gråsjälören a couple of hundred metres out. There, you will find toilets and campfire sites. If you're visiting during the weekend, you will find fika, snacks, pastries and beverages for sale. If the flag is hoisted, it's open. The Lions Club sells sandwiches, hot dogs, waffles and coffee and it is a popular place amongst the locals. The ice track continues underneath the Bergnäs Bridge and around Gültzaudden to the North Harbour.
Ice roads in the archipelago
For those of you who wish to cycle a longer distance out on the ice, you can cycle on one of the ice roads in the Luleå archipelago, that, depending on the quality of the ice, will be open for cars every winter. Ice roads are prepared to the islands of Hindersön, Storbrändön, Sandön and Junkön. On Hindersön you will find Jopikgården, offering rooms for overnight accommodation as well as a restaurant. On Junkön, you will find cottages available for hire all year round. Contact the Luleå Tourist Centre or one of the local guiding companies for more information on the ice roads. The guiding companies can also, under the right weather conditions, offer you winter adventures beyond the ice roads.