Dramatic, beautiful, physical. Rock climbing amid Norrbotten's nature is really quite extraordinary. Here, there is something for both the novice and the accomplished sport climber. Regardless of your level of skill, the experience and the challenge are the same.
Text: Birgitta Lindvall Wiik
Photo: Måns Gullgren
With a firm grip on the rock crevices, Fredrik Berg latches on to anchor point after anchor point and makes his ascent. His goal is the summit of Snipen, in Niemisel, and a magnificent view out over the Råne River valley.
"The view over the water, forest and village is astonishing. Climbers from all corners of the world come here to experience a dramatic climb. This view is their reward," says Fredrik Berg.
He took his first grip on the little Ironcliff, at Bergviken, five years ago.
Fredrik was given a climbing course as a birthday gift when he turned 30. Now, he is part owner of Klätterhuset in Luleå, and he continues to challenge new cliffs and walls.
"I got hooked immediately on the combination of physical and mental challenge, and the chance to see Norrbotten's most beautiful nature from fantastic vantage points. The fact that I get to be part of an enthusiastic gang and a really great community just adds to the pleasure," says Fredrik, who quickly advanced to become an accomplished sport climber. He now climbs as often as he can, usually four times a week.
Climbing requires physical strength and technique; for most, that is perhaps the great attraction. At least if you ask Fredrik Berg.
"There is a cliff or a climbing wall for everyone. Families, groups of friends, beginners and expert climbers can climb side by side. The fun thing is that you can be at completely different levels of proficiency and still climb beside each other while facing the same challenges. Climbing is an inclusive sport that I think everyone should try!"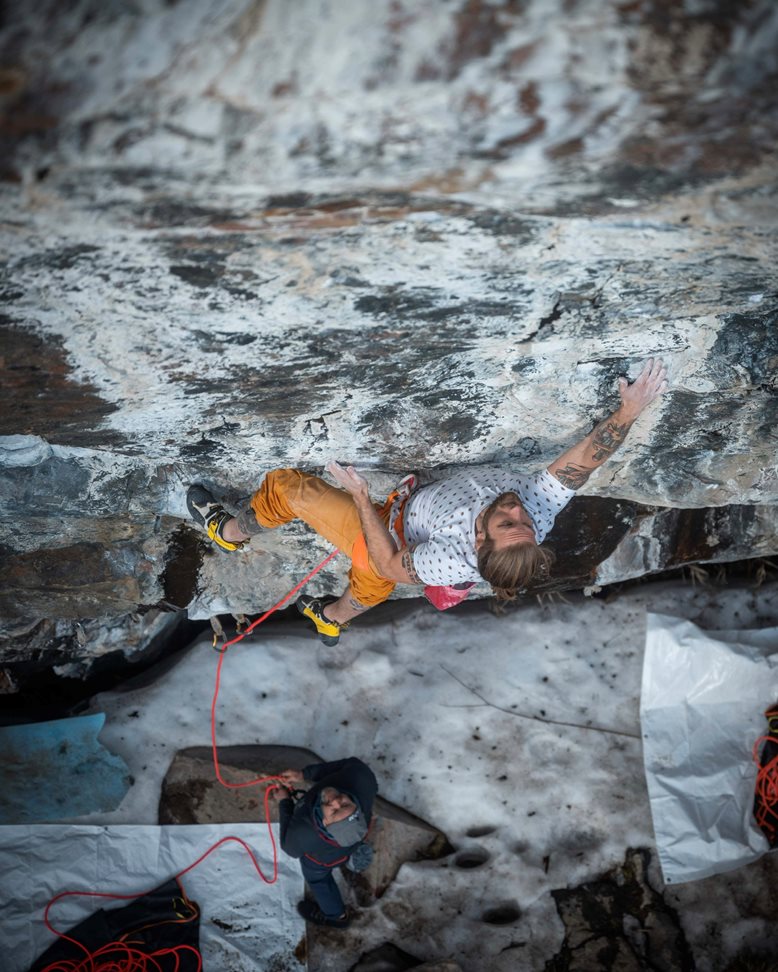 A Day in Life, Wild Thing, Rage Against the Machine. On Snipen, in Niemisel, there are about 40 routes. The theme for the cliff is MTV Wall. Whoever is first to make a climb gets to name it after a song or an artist.
"This rock offers dramatic climbing and its has climbs that are among Sweden's most difficult. Here, rope climbing applies. The cliff is steep, with a lot of overhangs."
In the vicinity of Luleå there are many fine cliffs and boulders for bouldering, i.e., climbing lower heights, with soft mats to break your fall. Bouldering, the simplest form of climbing, is ideal for beginners and requires no ropes, carabiners or other equipment.
The cliffs are just a short walk from from Brändö konferens. The area has boulders of varying sizes and degrees of difficulty. There's something for everyone. After a day's climbing and the short walk back to the area near Brändö konferens, an evening swim in the Bay of Bothnia is always enjoyable. Bouldering is increasingly popular, and the training and social aspects make it even more rewarding.
Fredrik also recommends Ängesbyn, where there are numerous opportunities for bouldering. Here, boulders consist of a fine, compact granite put your fingers to the test and require good physical strength, suitable for those who have had some climbing experience.
Outdoor climbing has a lot to offer and, near Luleå, there are also several great places to climb. In Sävast, between Luleå and Boden, you can climb at both Åberget and Åbergsfortet. At the latter, you make shorter climbs up to ten metres on the blasted-out cliff face in front of the fort, with views over the Lule River.
When the weather and the season are inappropriate for outdoor climbing, Klätterhuset in Luleå has a 1200-square-metre wall to climb on.
"My friends and I lacked a modern indoor climbing facility. At Klätterhuset you can rent or buy gear, climb a variety of levels, enjoy light refreshments and hang out with your friends. We created the kind of climbing gym that we, ourselves, wanted."
Good to know!
Find climbing areas at 27crags.com. "Norra Kustlandet", which describes climbing areas throughout northern Sweden, is also highly recommended. Available at Klätterhuset.
Courses and and equipment: klatterhuset.se