Driving a golf ball straight into the Sun at midnight. You have to be there to experience it. For Lisa Wikström, an evening round is the best round of golf, and many a summer's evening is concluded at Luleå Golf Club in Rutvik, outside Luleå. In daylight in the middle of the night.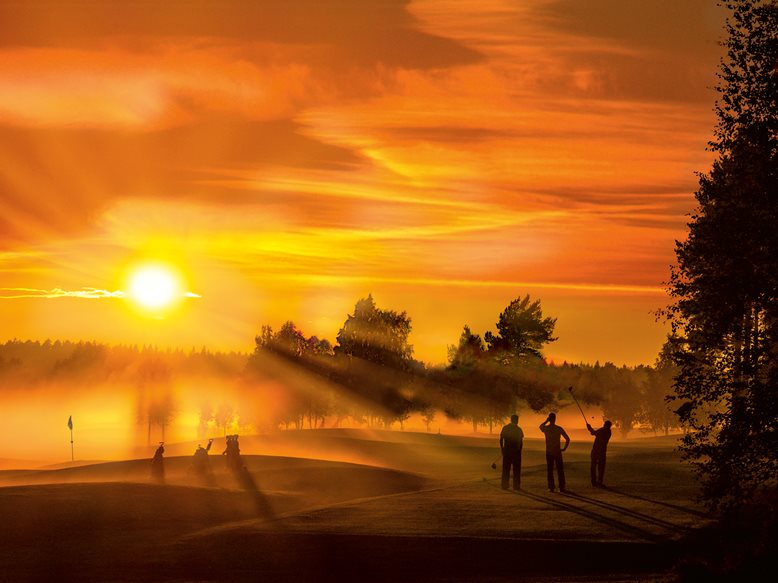 Read about the midnight sun – a natural phenomenon that occurs during the summer months north of the Arctic Circle.
Hermelinen, Renen or Björnen? Or why not all three together? Rutvik has the the world's northernmost 27-hole golf course and there are three nine-hole courses with something for everyone.
"Hermelinen has large, open areas and is the most appropriate for beginners. I lost a lot of balls when I started playing. Here, you have a good chance of finding them again," laughs Lisa Wikström, an avid golfer.
She caught the golf bug 15 years ago, plays three or four times a week and now has a handicap of around 18.
For Lisa, a round of golf is like a Kinder egg – with three surprises in one: the social aspect, fresh air and exercise.
"We are a gang of seven girls who often golf together. Some are old friends and others I've met thanks to golf. For us, the game is also a social happening. If we play 18 holes, we get a chance to discuss this and that while perfecting our swing and having fun together. Midnight rounds are probably the best. Rounding off a sunny day on the beach with a few hours of golf is the perfect way to spend a vacation day."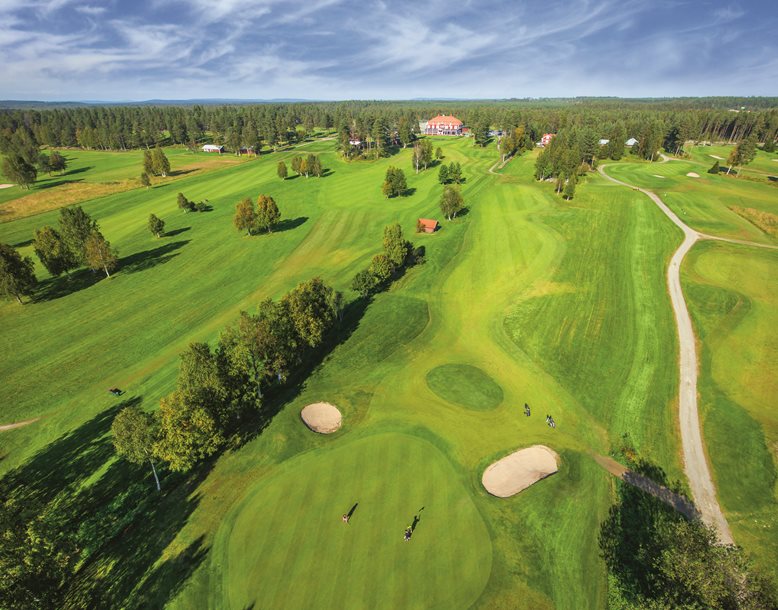 Björnen is the opposite of Hermelinen. Nine challenging holes await on this long, narrow course through wooded areas. Renen is a nine-hole course that combines features of the other two courses.
"Renen is probably my favourite; it has everything. Here, there are both woodland holes and holes on more open terrain. But the best thing about Rutvik having 27 holes is that an18-hole course is never the same; it varies depending on which two courses you choose. The courses offer varying characteristics when you play different combinations. The experience is so much better if you don't play the same 18 holes all the time. Even if there is a competition on the course, there are always a nine holes available for the rest of us," says Lisa Wikström.
When Lisa Wikström and her friends decide to play all 27 holes, they need to take a proper break for food and refreshments after the first round.
"We play18 holes in the morning, and then take a two-hour pause and before continuing with the remaining nine holes. With a bit of luck, the restaurant will serve a good brunch, but I have often enjoyed a meal of chipped reindeer and mashed potatoes, or grilled chicken fillet with pasta at Rosa's place."
Well-prepared traditional Swedish fare is just another added bonus of golfing at Rutvik.
"I've travelled around and golfed in many places, both in Sweden and abroad and I think Rutvik has something special. The courses are incredibly well maintained and the atmosphere is inclusive and friendly. We are very lucky – spoiled, in fact – to have long, bright nights, and that's something I take for granted. Friends visiting Luleå who join us on a midnight round of golf are always just as delighted. Daylight in the middle of the night feels surreal for those who are not accustomed to it. You have to be here to experience it."
But what makes golf so special?
"It is a very difficult sport and the margins are tight. I can hit what I think are two identical shots but, even so, one is perfect and the other is mediocre. That inspires me to find out why they were different. If it goes bad, I want to improve; if I play brilliantly, I want to experience the feeling again.. Of course, golf takes a lot of time, but it is time well spent in good company with fresh air and exercise."
Visit Luleå Golfklubb. 
Text: Birgitta Lindvall-Wiik
Photo: Lule-Bild
Translation: Mark Wilcox