A small White Guide galaxy
Something's going on in Luleå. The city boils, fries, night-bakes, deep fries, sautés, braises, pickles and preserves, eats, drinks and enjoys every day of the week. Meet Luleå's thriving restaurant culture. A small White Guide* galaxy, well worth a visit for any food lover.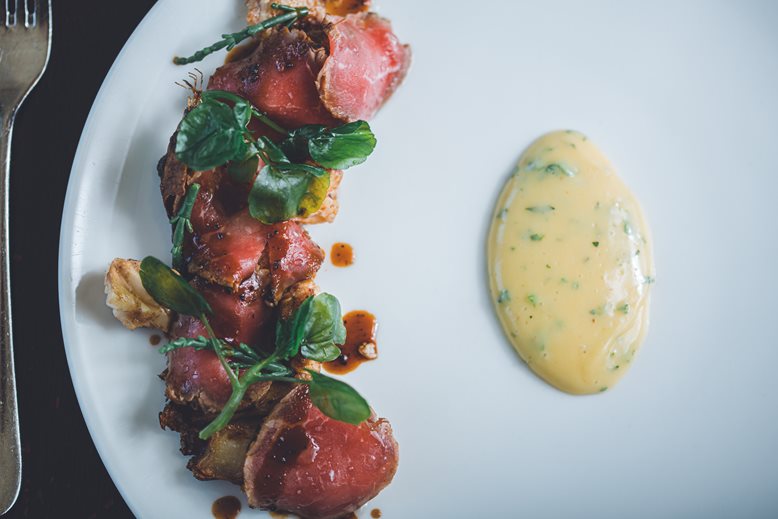 Slow-cooked ox cheek braised in red wine, or tuna tartar gyoza tacos. Duck breast spring rolls or reindeer veal and black pudding. Local horse, beef or reindeer blood sausage with roasted winter apples. Elk carpaccio or smoked, rimmed arctic char. Guinness boiled ox cheek or lavaret roe blini. Grilled deer sirloin and homemade, lightly smoked deer sausage or a pâté made with self-caught pike. Lamb knuckle with local archipelago sausage or ptarmigan, pan-fried on the bone. Blue mussels with smoked potatoes or deep-fried small lavaret on flatbread. Swedish Mountain Cattle from a meat locker or 150 degree hung beef from Norrbotten County farms. Ptarmigan breast with ptarmigan blueberry sausage, reindeer topside and whisky gravy or just simply Kalix lavaret roe. This is just a small selection of the items offered on Luleå's menu.
The fact that many have dared to find their own niche makes for a varied restaurant city with exciting offerings. Seemingly, all of Luleå has found its own unique way of doing things.
– We have a calm that is quite typical of us. It is relaxed and natural. Combined with creativity, skill and local ingredients, Luleå becomes a very special restaurant city that suits everyone, explains Petter Nyberg at Restaurang CG.
Ingredients are prepared from the ground up and more and more kitchens strive to do as much as they can on their own. The local ingredients are hard to beat, found in nature's own pantry where everything is allowed to grow slowly. This results in real and intense flavours.
– The food is like the people up here; things are allowed to take time but they end up being better. Also, many of us have grown up in close proximity to hunting and fishing, with vegetable plots and berry bushes in our gardens or berry and mushroom picking in the forest. This gives us an understanding of flavours and raw ingredients, says Petter Nyberg.
Many of the restaurants are found close to each other in the city centre. This has created a culture where more and more guests visit several different establishments in one evening to mix half and full courses, pre-dinner drinks and desserts, simply to experience more. There is a classic steakhouse with relaxed finesse. A lively food bar or a bistro right next to the quay. A pleasantly simple café atmosphere with the smell of roasting coffee. A homely atmosphere, open kitchens and continentally bustling dining halls. A sky bar with a view of the sunset.
Something's going on in Luleå. Welcome to a small White Guide galaxy well worth a long detour. Even by Swedish Lapland standards.
Luleå's White Guide restaurants
Restaurang Cg's
It's about love, expertise, and respect. For the food. For you. A meal made with you mind. Tastes like home home. Really home. And really good. Visit Cg's
Hemmagastronomi
A bakery. A studio. A deli. A restaurant. An abundance of choices at your disposal. Everything made with care at Hemmagastronomi. Close to nature. No, really. The ocean is right outside. You can see it. You can feel it.  Visit Hemmagastronomi
Bistron
Bistron. You're eating. You're opening a door to the local food supply. A cross-over kitchen. Ever in motion, never predictable. With local ingredients as building blocks, Bistron creates a gastronomic experience tailored for you.  Visit Bistron
Restaurang Arkipelag
Imagine a family luxurious atmosphere, where you enjoy the feeling and warmth as much as you do from exciting flavor combinations of local ingredients, prepared with love and care. Visit Arkipelag
*About White Guide: Since 2004, the White Guide has been a driving force in the evolution of Nordic gastronomy, promoting culinary arts and a thriving, responsible restaurant scene. The guide openly supports innovation, sustainability and the many unparalleled joys of eating out. White Guide's selection and scoring criteria are entirely transparent, restaurants are reviewed anonymously, meals are paid for and the reviews combine serious food critique with inspiring journalism and up-to-date guiding information in various formats.
Want to enjoy the midnight light?
Experience the never ending night at one of the cities beer gardens and outdoor seatings.