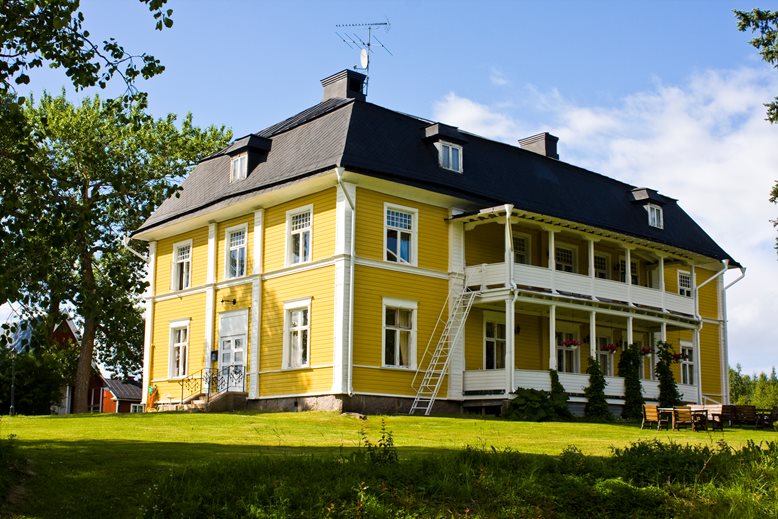 Melderstein Herrgård
Construction of the Melderstein Mill Manor began in 1741, with the goal of processing iron ore from Malmberget. It was founded by Jonas Meldercreutz, Abraham Steinholtz and Carl-Johan Thingwall. The name Melderstein was an amalgamation of the names of the two principal owners, Melder(creutz) and Stein(holtz). The mill was active until 1892 and since then, Melderstein Manor has served as a seat farm, a boarding school and a recreation retreat run by the Mission Covenant Church, amongst other things. Today, Melderstein Manor is owned by the Thingwall family. In its beautiful surroundings you will find pleasant walking areas with numerous reminders of the mill era at Melderstein. There are many remains – a blast furnace ruin, ore piles, ore roasting pits, the foundations a forge and a coal house, remains of a dam and a canal, a shipyard, and the site of a Sami hut.
The Iron Mill era in Norrbotten spanned almost three centuries and is an exciting piece of cultural history, with Melderstein Manor at the very heart of it all. When Melderstein could not provide sufficient capacity, the Strömsund Mill Manor and its blast furnace was constructed outside Råneå. Ore was transported to Strömsund on reindeer-drawn sleds, ackjor. The blast furnace produced pig iron which was then transported up the Råne River to Melderstein. The mining in Gällivare and the blast furnace in Strömsund were the two extremities of this operation.
Malmens väg (the ore trail)
Malmens väg is a skiing and snowmobiling trail, following the route along which ore was transported from Gällivare/ Malmberget to Strömsund on the coast outside Råneå, using reindeer and horses respectively, from 1774 to 1882. The trail has a total length of about 200 km and alongside it you will find a number of rest cabins with indoor fireplaces and outdoor campfire sites. The trail also connects the systems of trails with rest cabins, fishing lakes, vantage points, wind shelters etc. that were built and are run by local associations in Råneå, Niemisel, Gunnarsbyn, Nattavaara, Jokkmokk and Gällivare
In the guide Gems of the i Råne and Vitå river valleys you will find more tips on things to experience.