Råneå and Vitå river valleys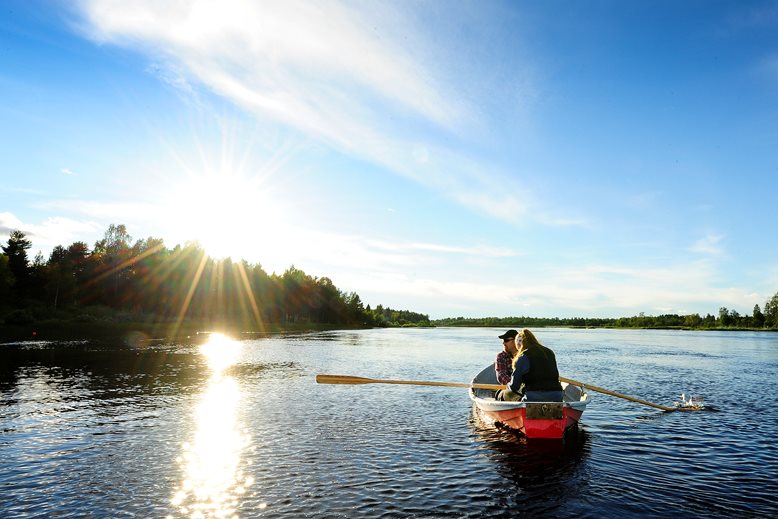 The Råne and Vitå River valleys span the municipalities of Luleå, Gällivare, Jokkmokk and Boden. These rich, unregulated, natural treasures stretch from the foot of the mountain Dundret in the northwest to the estuaries in the Gulf of Bothnia in the southeast.
The vast, untouched forestlands of the river valleys are home to extraordinary experiences and great variety. The fauna is rich. The bathing beaches are many – there is the sea, there are rivers, lakes and pools. Wilderness adventures and great canoeing waters are amongst the attractions, as are the fishing opportunities. In the Råne and Vitå River valleys you will also find many destinations of cultural-historical interest to visit. The area also offers grocery stores, petrol stations and eateries, frequented by locals and visitors alike.
Choose accommodation to suit your tastes – stay in a forest cabin, a cottage village, at a campsite or find conferencing opportunities at a local hotel or in a manor house environment. Skilled organisers will guide you through local activities and breathtaking experiences such as whitewater rafting, fishing and climbing. Crayfishing is a major event and traditionally a family feast, for a few days in August. The lower part of the Råne River has one of Sweden's richest noble crayfish populations. At dusk, small fires are lit and people gather to heat a tasty treat or just socialise as they wait to empty the fishing traps. The crayfish are boiled with dill according to a secret recipe and served with delicious condiments. The crayfishing parties are highly popular and a perfect way to round off the summer season.
Winter, on the other hand, offers lots of activities on crisp, natural snow. The ice is a playground where snowmobiles and skiers enjoy the vast, white vistas together. Ice fishing attracts fishermen of all ages and there are many great fishing spots throughout the rich river valleys.
How about a trek along Malmens väg (the Ore Trail), by snowmobile, dogsled, or maybe even on skis? The trail stretches almost 200 km, from Strömsund to Dundret in Gällivare and there are rest cabins and wind shelters where you can stop to warm up.
In the guide Gems of the i Råne and Vitå river valleys you will find more tips on things to experience.