Luleå is a great place for the fishing enthusiast! Here you'll find both rivers and calm waters, lakes with stocked fish and sea fishing. Luleås light and warm summer nights makes fishing an experience out of the ordinary and with a bit of luck you might get company from a swan or white tailed eagle. 
There is more than one fish to get on you hook in Luleå. Fish for salmon or rainbow trout in Luleå river. Get a permit and look for European Crayfish in Råneå. Or if you're lucky you might see Junköfiskarna fishing for Vendace in Luleå archipelago. What ever you chose we highly recommend you take a walk in the famous fishing labyrinths scattered on the islands of Luleå archipelago before you go fishing.
The fishing guide
We've gathered all we know about fishing and a little more in our fishing guide and we hope you will like it! You can download the fishing guide (pdf) or pick up a physical copy from Luleå Tourist Center in central Luleå. There you can also get help and information before heading out on your adventure.
This is where the fish bites
LULE RIVER. Good salmon and trout fishing in the Gäddvik area. Perch, pike and whitefish can be fished from the city beaches, or by boat out in the open archipelago. In winter, many people go ice fishing on the ice surrounding the city. The best way to catch both perch and get a tan.
RÅNE RIVER offers varied fishing. Large pike are not uncommon, especially near the river mouth. Salmon, trout and grayling are also found here. Higher up the river, you can also find zander. Perch are of course found throughout the length of the river. Also, do not forget the crayfish premiere in August! Sport fishers will find a number of pleasant tributaries of the Råne River, with good grayling and trout. Wild salmon is the largest fish you can catch here, however. Trout are protected all year round in the Råne River. However, at the river mouth and out at sea, fishing is permitted.
LAKE HOVLÖSSJÖN. The largest lake in the Luleå region has a strong trout population. Trolling is recommended here.
LAKE HERTSÖTRÄSKET.Lake near the city, with introduced rainbow trout. The lake also has pike and perch. Ice fishing in winter.
STORA STENTRÄSK. Lake in the northwestern corner of Luleå Municipality with introduced fish, rainbow trout and Arctic char. Good ice fishing in winter.
MITTITJÄRN NIEMISEL. Smaller lake near Niemisel in the Råne River valley with introduced fish.
METTRÄSKET JÄMTÖN. Lake a few kilometres north of Jämtön, with introduced rainbow trout.
THE ARCHIPELAGO. The Luleå archipelago offers interesting fishing. Here you will find large pike, as well as perch, whitefish, grayling, salmon and trout. Away from the river mouths, rod fishing is unrestricted, no licence is required. The river mouths and shallow waters close to some of the islands in the archipelago are best for pike. The outer parts of the archipelago offer good grayling fishing. The experience is something quite extraordinary to fly fishers, as the whole sea appears to boil. In autumn, vendace is fished for its roe. Kalix vendace roe is a famous delicacy. Ice fishing for perch, whitefish and grayling works well in the archipelago.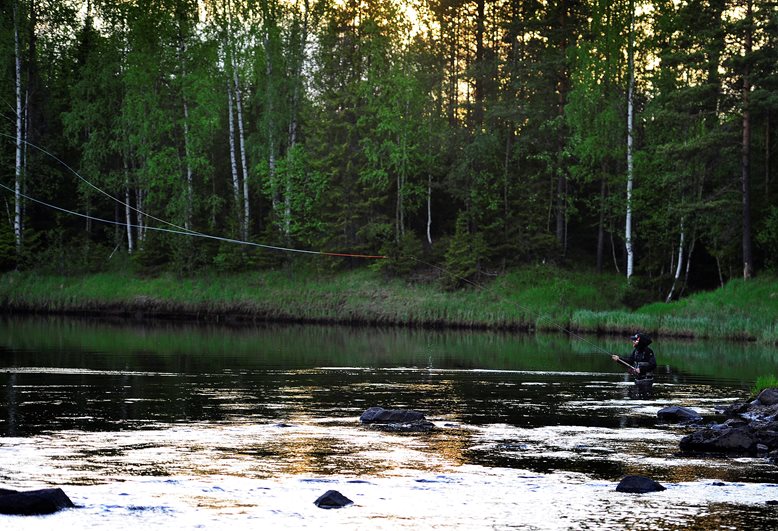 Good to know!
Please take care to ensure that you are fishing in permitted waters and have the right licences. Respect local regulations, such as the permitted number of fish, minimum measurements and salmon gill tags. More information available at the fiskekort.se and local service providers.
Get at fishing licence
For fishing in the Råne River – buy a licence at the Råneå Medborgarkontor and at the OKQ8 Råneå Sörsidan petrol station. You can also buy a licence online, through fiskekort.se. For several of Luleå's fishing waters and Hertsöträsk you can buy a licence at fiskekort.se.