On warm days in June, July and August, it's almost mandatory to dip your toes in the ocean. Born­ again, you can run up onto the beach, lay down under the sun and relax. Or sneak out in the middle of the night for a swim in the light summer night. A luxury that can't be found in many other places! Do you prefer the heated out­ door pools, there are several kid­friendly versions for seven days a week.
Below we list out absolute favorite beaches and pools in Luleå, some close to the city, some a hike, bike ride or short car ride away. Click the links to see the exact location on Google Maps.
1. Gültzauudden
A perfect place for families with children and for young people. There is a pirate ship and a volleyball court. The scenic Gültzauudden, within walking distance of the city centre, with a playground, a café and toilets.
2. Svartöstan
A well-preserved, centrally located gem, found just outside the old mill town and mostly frequented by the locals themselves. The nicest beach is the one surrounding a beautiful old stone pier, stretching out into the clear bathing water of the river. Swim in pleasantly shallow water or lie down and look at passing boats.
3. Tjuvholmssundet
An untouched oasis in the archipelago, close by and accessible by boat and car.
4. Lulviksbadet
Nice, well-maintained and spacious, with large lawns and barbecuing opportunities. Part of the beach is a designated nudist beach.
6. Brändön
Child-friendly, at a scenic archipelago location, with a kiosk, café, restaurant and grilling pits. Firewood available for purchase. Sauna, kayak and pedal-car rental.
7. Niporna
Karlsvik's very own gem. Close to the Arcusbadet bath, the campsite, First Camp and a charmingly cosy café. You are sheltered by a steep, sandy hillside behind you. Narrow beach with clear water and a fantastic view of the river.
8. Lulsundet
Nice and central. Popular family beach with large green areas and parking near the beach.
9. Storsand
Wide sandy beach with shallow bath near Stor- heden shopping area. Child friendly and convenient and at the same time genuine and a beauty spot.
10. Klubbviken Havsbad
Klubbvikens Havsbad offers good overnight accommodation, daily boat tours, a guest harbour and a wealth of activities in which to partake.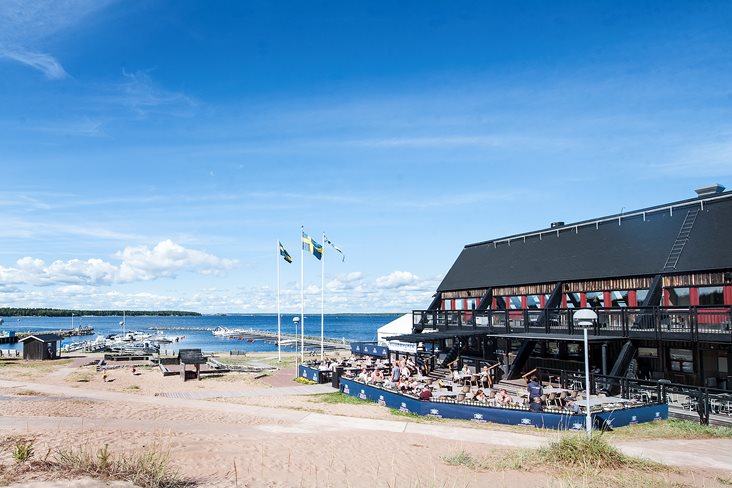 Dine and swim with a view over Luleå archipelago at Klubbvikens Havsbad.
11. Rörbäcksbadet
Rörbäcksbadet is located on a peninsula in Jämtön north of Råneå. There is a camping site here and Luleå municipality's easternmost mainland port which can handle relatively large boats and has a guest harbour. The bath has a fine sandy beach and is suitable for younger children as it is shallow.
12. Arcusbadet
The popular Arcusbadet is located at First Camp Luleå and entertains both young and old. There is a great adventure bath with a wave machine and a long waterchute. There is a barbeque restaurant, kiosk and dressing rooms in the area, showers and open-air showers.
13. Aronsbadet
Aronsbadet is a bath without entrance fee at Örnnäset. There is a pool with a waterchute and a small children's pool. The kiosk sells sausage, ice cream, snacks, candy and beverages.
14. Rånepoolen
Rånepoolen is a tempered open-air bath with pool, waterchute, children's pool, kioks, dressingroom, large grass lanes and areas for play that offer great relaxation during hot summer days. Adjacent to the pool is a tennis court and an artificial turf pitch.