At a farm in Bälinge, animal husbandry has passed from generation to generation. But while traditions are preserved, new ideas are also developed. In recent years the farm's owners have moved towards the creation of a zoo and organic farming with a focus on self-sufficiency. Binding it all together is a love of the land, the animals and nature.
Text: Birgitta Lindvall Wiik
Photo: Per Lundström, Taigapic
On a hill overlooking the Lule River, the eco-farm in Bälinge attracts visitors all year round. In a pasture behind the house and down near the shore, Swedish Mountain cattle are grazing. From another paddock can be heard the bleating of goats, sheep and lambs. Linderöd pigs root around in their patch of green near the grandparents' cottage, and here and there around the farm are Bjurholm hens, Shetland ponies, dogs and a cat.
On the farm in Bälinge, together with the farm's four-legged family members, a new generation has taken over, developing the concept into something extra.
"Much like Skansen and Kolmården, we are a zoo, but not quite. The animals are a natural part of the family and everything revolves around their care and needs. We use our animals in as many ways as possible in our operation," explains Britta-Karin Jakobsson.
She grew up among dairy cattle and bleating sheep and now manages the farm, together with her partner, Thomas Holmbom, an academic who pursued a management career and finally landed with his hands and feet in the soil.
"When I coach businesspeople I often hear that they dream of living a life like the one Britta-Karin and I live; a life close to animals and nature," says Thomas.
He and Britta-Karin live in the large farmhouse with some of their children who have not yet fled the nest. Nearby, in the little cottage, live Lisbeth and Staffan Jakobsson, Britta-Karin's parents.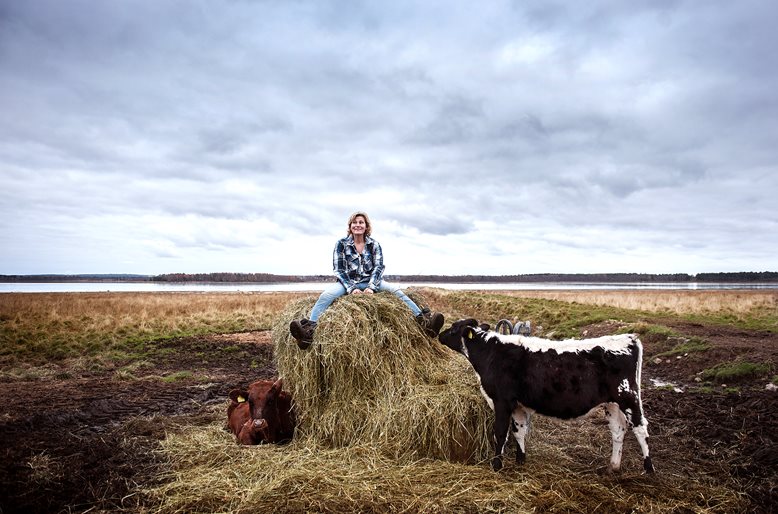 "When the children were small, having Mum and Dad close by was invaluable. They have helped me so much with babysitting," says Britta-Karin, who tells us that her parents still help out with work on the farm, just like their parents before them.
Days on the farm begin early. Britta-Karin crosses the yard to the barn, where she milks all of the cows. After the morning chores, it's time for coffee, and all who work on the the farm gather in the restaurant for a well-deserved break.
Grandmother Lisbeth used to set her kitchen table for nine-o'clock breakfast for her husband, children, grandchildren and the farmhand. Breakfast consisted of sausage and potatoes or smolanedi, a Norrbotten speciality of flatbread crumbled in milk and served with lingenberry jam.
Although the traditional breakfast has been replaced by a coffee break, the time together is just as before. They pause, drink coffee and plan the rest of the day's work. No day is ever like another and the tasks, such as fencing or gathering hay for ensilage, are always ongoing. Everyone in the family helps out.
"I usually inseminate our cows myself and today I've checked to see which ones are gestating. Eight of them are pregnant," announces Britta-Karin.
Having worked on the farm for more or less all of her life, she eventually took over managing it full time.
"As a teenager I dreamed of becoming a journalist, but during high school I realized that I really belonged at home on the farm, so I applied for agricultural college instead. After I had worked on a sheep farm in Island, my parents hired me."
And so it goes. It is a path Britta-Karin has never regretted taking. As a farmer, one lives a free life, though one is always bound; you may plan your own day, but you never get to sleep in late or take time off to go on holiday.
"The working day is seldom done until it's time for bed, but the lifestyle suits us," say Britta-Karin and Thomas, who not only keep livestock but also run a restaurant with dairying as the main attraction.
They are always coming up with new ideas and will soon open their own dairy. It's a bit like running a small hotel.
Something the couple find particularly rewarding is sharing old knowledge about self-sufficiency.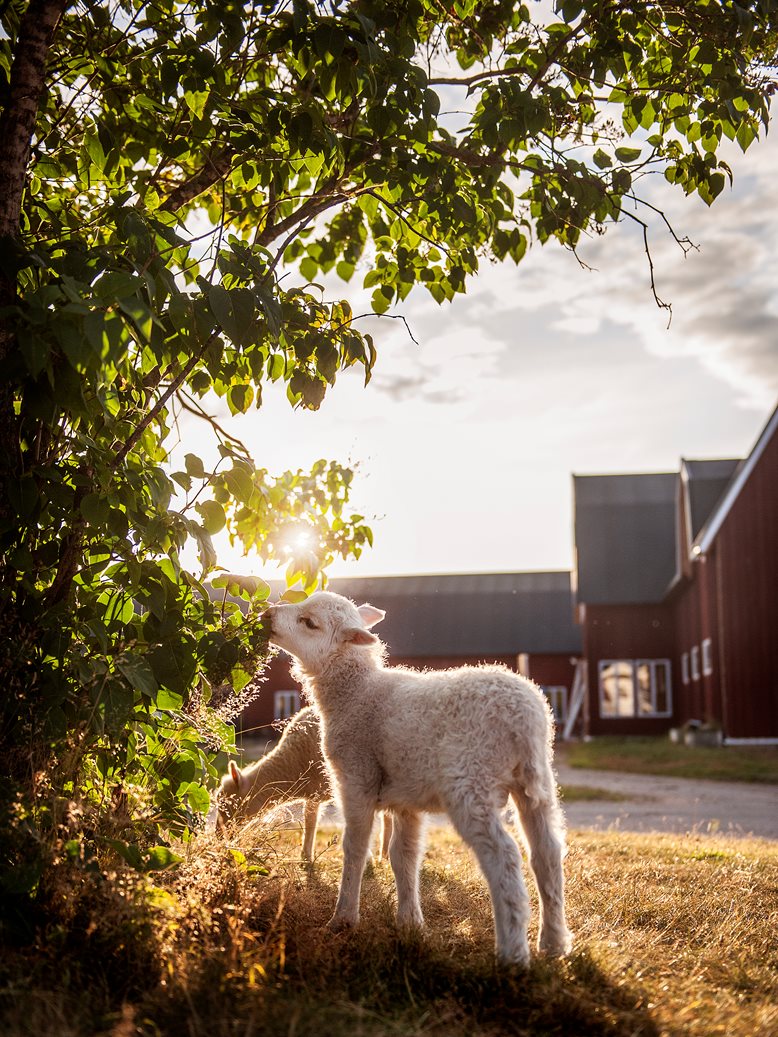 "We want to teach others about how plants and animals should be treated from farm to table. We wish to relay knowledge about good animal husbandry from birth to slaughter and share old knowledge that could soon be lost. How many people know how to clip hooves nowadays? "
Britta-Karin and Thomas see no conflict in eating animals for which they have cared dearly, even though they have a soft spot for some of them – like bottle-fed lamb Lill-Kickan, who grew up on their kitchen floor.
"Even so, it is important to remember that animals are animals, not people. When we know that an animal has had a good life and that it has been slaughtered in a humane way, we can sell or eat the meat with a good conscience."