Hösten i Luleå lämnar inte mycket att önska. Luften är frisk, och skogarna är vackert lummiga och går så sakteliga mot orange. Framförallt så är de fulla med bär. Det här är en perfekt tid för bärplockning. Ta med dig en korg, sätt på dig ett par bekväma skor och ge dig ut. Här finns massor att hämta!
Blåbär
Skogen A-kändis. Alla känner till blåbäret. Litet, sött, gott och som lämnar tydliga bevis på händerna efter att du plockat dem. Gillar du inte att ha lila händer kan vi rekommendera en bärplockare som du håller i handen och skalar av bären från busken med. Men var försiktig! Blåbär är sköra och går lätt sönder. Sylt görs på spisen, inte i bärplockaren. Att blåbär är blåa vet alla, men visste du att de väldigt nyttiga och bra för dig? De innehåller en stor mängd C- och D-vitamin, samt antocyanin som sägs ska minska risken för cancer, diabetes och inflammation i kroppen.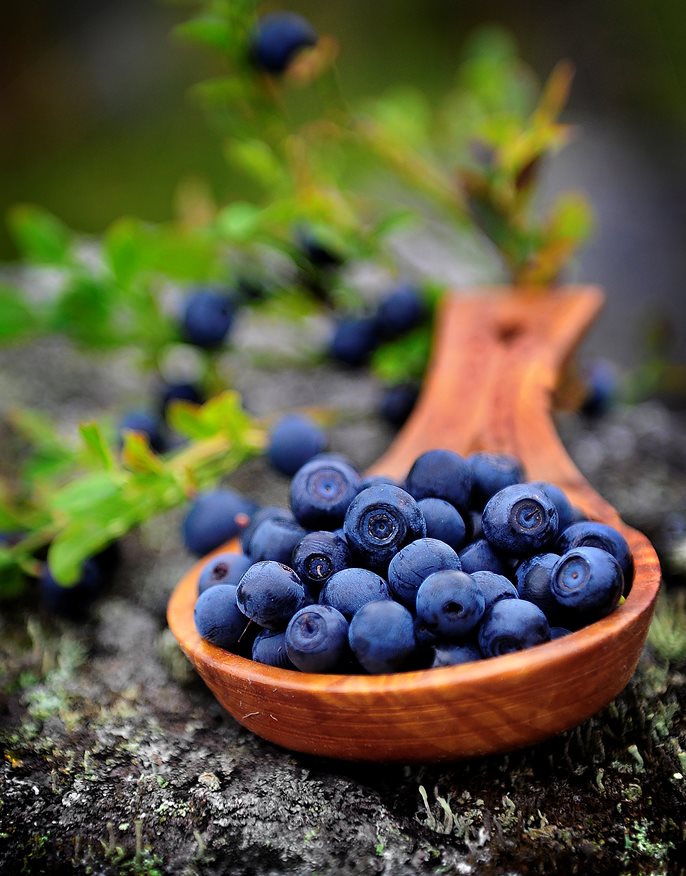 Lingon
Okej, vi tar tillbaka det. Lingon är nog världsstjärnan av skogens bär, mycket tack vara IKEA. Det lilla, röda och syrliga bäret är en fröjd att plocka för dig som vill plocka snabbt och mycket. I rasslande fart drar du av de små bären från bärbusken och vips har du fått ihop en hel hink! Väl hemmavid kan du enkelt göra rårörda lingon som är ett utsökt tillbehör till viltkött. Är du lagt med åt det söta hållet är lingon en grymt god ingrediens att ha i bakverk. Precis som blåbär är lingon väldigt nyttigt och bra för dig, och klassas av många som ett så kallat superfood. Inte illa!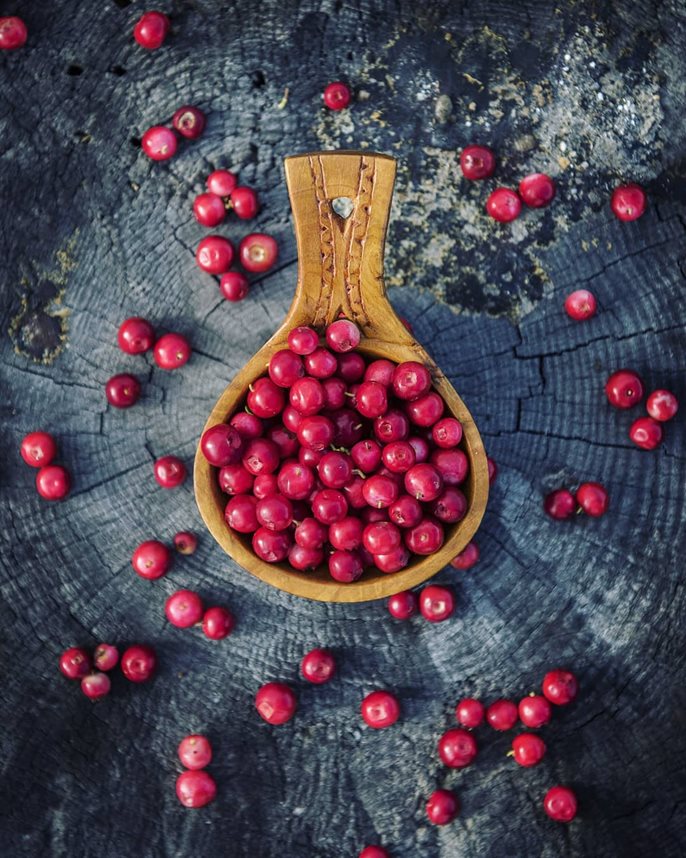 Hjortron
Skogens guld hittar du självklart i Luleå. Hjortron är en delikatess och något av en lyx. De växer inte överallt, utan trivs bra i våra kretsar där mer arktiska förhållanden råder. Hjortronställen brukar vara en väl bevarad hemlighet, här får inte vem som helst veta var den största guldgruvan finns. Så bli inte förvånad om du frågar en Luleåbo var de plockar sina guldklimpar och du inte får något svar. Hjortron växer i skogen och gärna nära myrar och sank mark, så var försiktig när du ger dig ut. Marken kan vara förrädisk. Bären är goda precis som de är, men vi kan rekommendera dem som nykokt sylt ringlad över vaniljglass.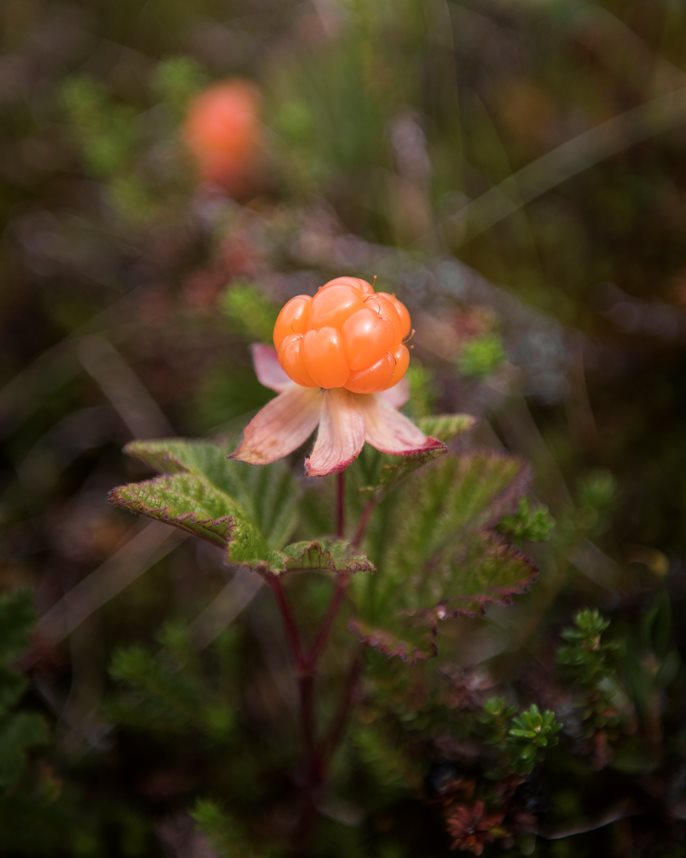 Åkerbär
Liten, delikat och läskande god. Åkerbärsblomman är faktiskt Norrbottens landskapsblomma som efter sin blomningstid övergår till att bli ett utsökt litet åkerbär. Åkerbäret är en släkting till hallonet och de påminner faktiskt om varandra litegrann i smaken. Bäret är betraktat som exklusivt och säljs ofta dyrt som en delikatess. Blommorna blommar i rött, rosa och lila och bären blir så småningom mörkt röda med en imponerande motståndskraft till kyla och frost. Precis som Norrbottningar.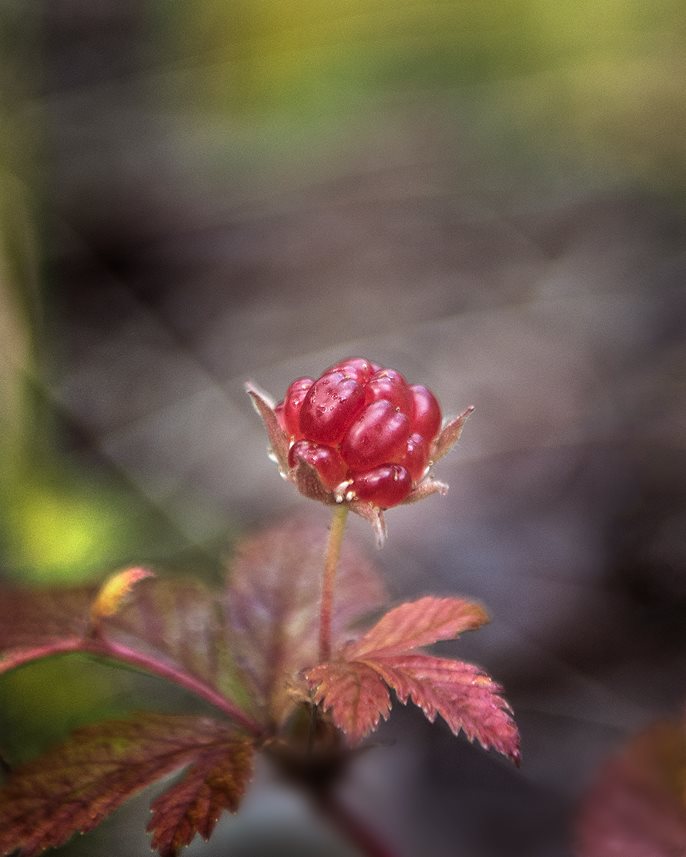 Blueberries
Blueberry is a common, small and, you guessed it, blue berry that you can find when hiking the the forests surrounding Luleå. Not many people know that Nordic blueberries are actually a different species than the blueberries found in North America, for example. Nordic blueberries, or bilberry as is their real name (but everyone tend to call them just blueberries) are very healthy. They contain high amounts of vitamin C and D and what's more, Nordic bilberries are said to contain up to four times more anthocyanin, which is the substance that has been found to prevent cancer, diabetes and inflammation, and slow the signs of aging. They grow on small bushes with green leaves, close to the ground. The berries are dark blue and quite soft so be careful not to crush them when you pick and transport them. Blueberries ripe from the middle of summer to the beginning of September.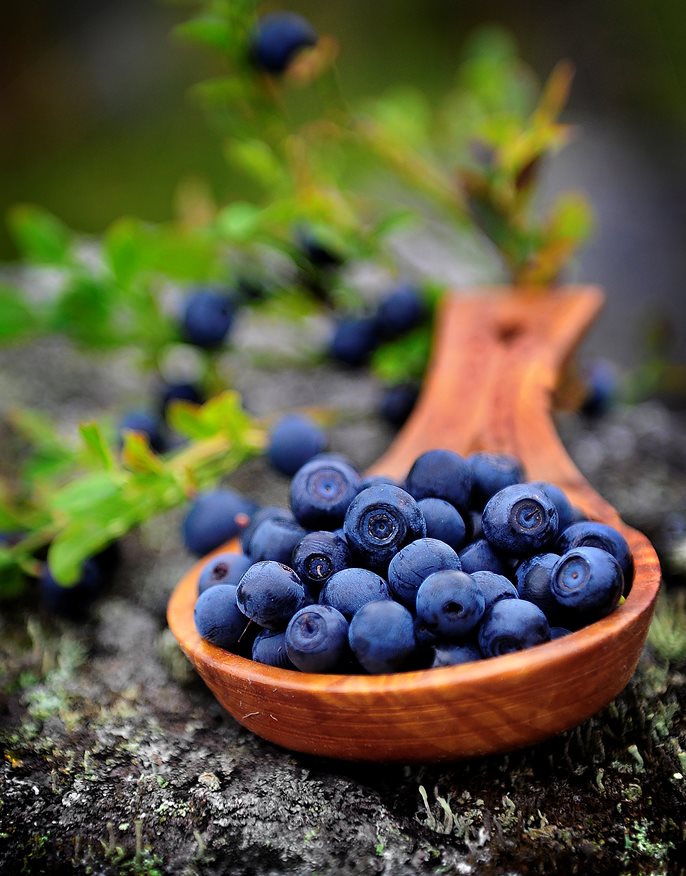 Lingonberries
This small red berry is a Swedish delight, used in jam and cooking as well as desserts and candy. It's almost impossible to visit Luleå without coming across them in some shape or form. Maybe you've even seen them outside of Sweden, at your nearest IKEA on the plate alongside your meatballs. It's a Swedish superfood a it is high in antioxidant qualities and also containing substances that help fight obesity and regulate blood sugar, as well as preventing cancer, inflammation, urinary tract infections and tooth and gum disease.
They grow on low and small bushes with thick, dark green leaves. They are easier to pick than the blueberries as they are harder and not as delicate. You can find lingonberries in the Luleå's forests from August until late September and sometimes even as late as October.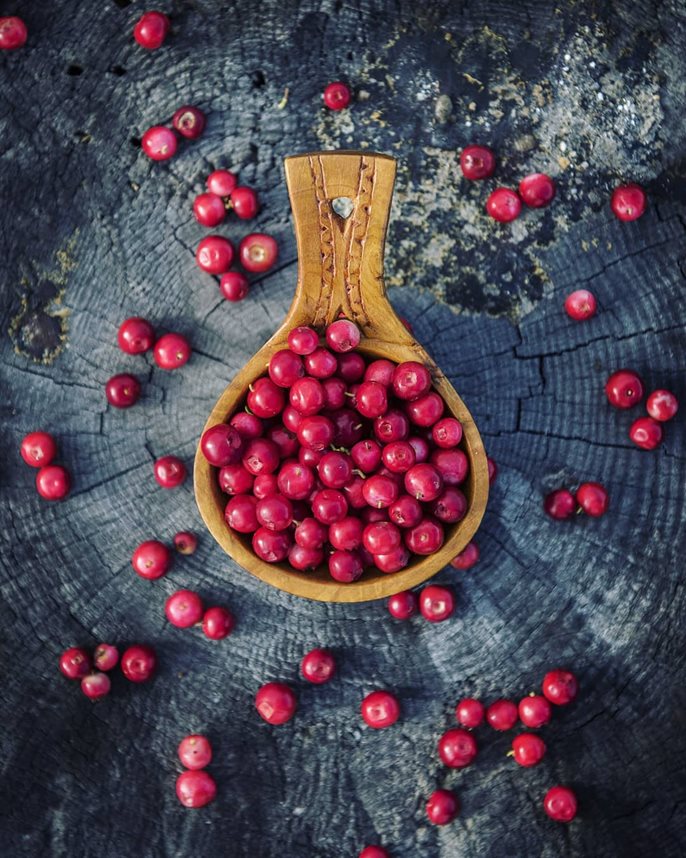 Cloudberries
The gold of the forest – cloudberries. This is a Swedish delicacy and not many people have tried it as it mainly grows in arctic or alpine environments. The locals are very secretive with where they have their favorite cloudberry site, nothing can make them reveal where they go to stock up on this delicious, amber berry. If you do find some however, they make great a great jam that locals oftentimes eat warm in combination with vanilla ice cream. We promise you won't be disappointed. Apart from that, cloudberries are incredibly good for you. They are known for their detoxifying and immune-boosting abilities, and also reduce the risk of cardiovascular disease, stimulate circulation and digestion, and prevent diabetes and some cancers. They like to grow near mires, so be careful when you head out the find them.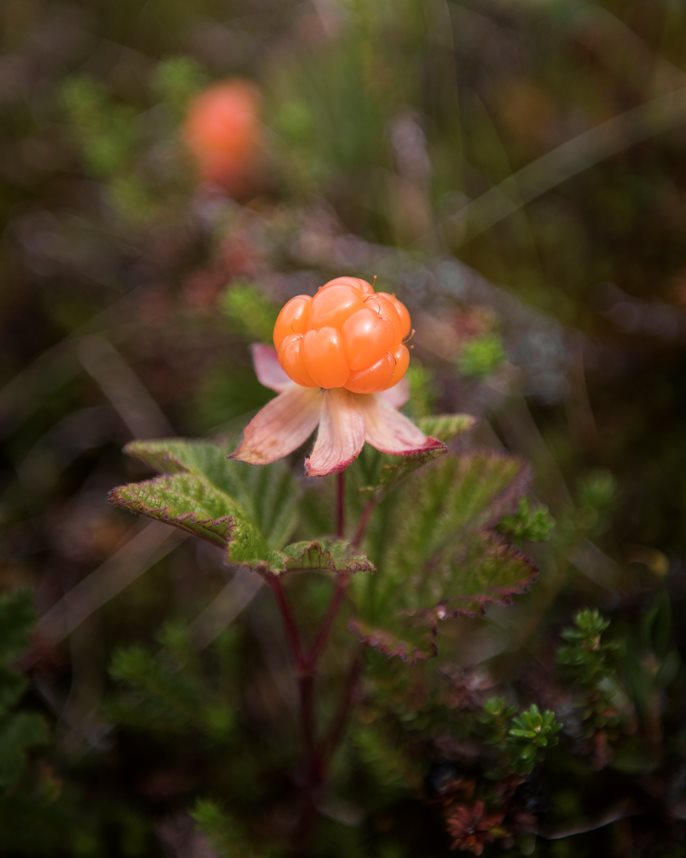 Arctic bramble
This small little berry is actually the province flower of Norrbotten. It's flowers later turns into small, delicate berries. Not unlike the raspberry, which is a relative to the arctic bramble. The berries as considered exclusive and are sold at a high price, so if you do find some you can consider yourself lucky! They like it here, up north, where the winters are long and the climate   harsh. Theygrow acidic soils rich in organic matter. The flowers are in groups of one up to three, and the petals are pink, red, or magenta. The berry is deep red or dark purple, with an unusual hardiness to frost and cold weather conditions.